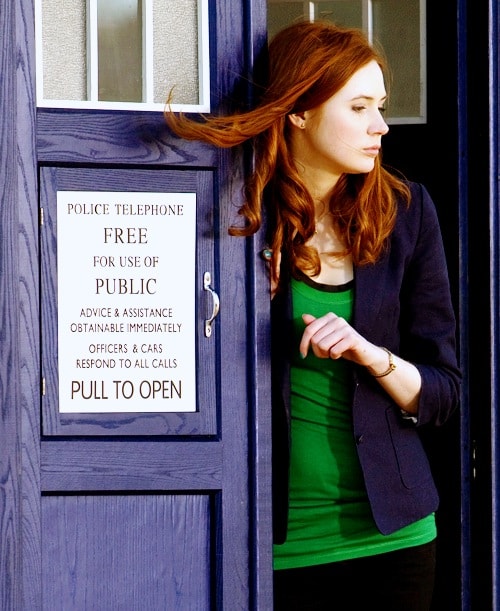 "When dark days come you must strive to see the light"
Full Name:
Amelia Jessica "Amy" Williams (née Pond)   
Aliases:
Amy   
Age:
26 Years   
Occupation:
Time Traveler   
Species:
Human   
Face Claim:
Karen Gillan   
Sexual Preference:
Straight   
Marital Status:
Married   
Current Residence:
London, UK   
Personality:
Amy was adventurous and reckless, with a dry wit and a stubborn streak. She had a difficult childhood being an orphan raised by her aunt. Her parents had been wiped from existence by the Time Field in her childhood bedroom. She felt abandoned by the Doctor. She was rarely open with her feelings and often mistrustful and wary. She held people she cared for at arm's length.   
Appearance:
Spoiler:
Parents:
Augustus & Tabitha Pond.   
Siblings:
N/A   
Important Figures:
The Doctor, Rory Williams, River Song.   
Home Town/Planet:
Earth   
History:
Amelia was consistently the dominant member of her trio with Rory and Mels. Throughout primary and secondary school, Amelia unwittingly reared Mels, serving in loco parentis and lecturing her after each of her myriad discipline problems. Meanwhile, Rory went submissively along with Amelia's instructions so long as it allowed him to be near her.
Because of Rory's timidity toward making any romantic overtures toward Amy, and his obvious disinterest in other girls, Amy incorrectly assumed him to be gay. In their late teens, Mels caused Amy to realise Rory's feelings toward her and she returned his affections.
The Doctor returned, thinking that only five minutes had elapsed, returned in 2008 when Amelia was now calling herself "Amy" to distance herself from her "fairy tale" name. She had become Rory's girlfriend and worked as a kissogram. At the time of the Doctor's return, she was wearing a mock woman police constable uniform, causing him to believe her to be a police officer just as she had assumed him to be twelve years earlier because of the TARDIS' exterior. Though dubious, she helped the Doctor defeat Prisoner Zero and warn the Atraxi never to return to Earth. He took two years to take the TARDIS to the moon to break in the new engines.
Afterwards Amy left with the Doctor the night before her wedding to travel with him through space and time. It was just the two of them for some point until she had to return and face the day she ran from. Though instead of the wedding day they snagged Rory and brought him along for the ride the two of them the Doctor's constant companions.    
Nickname:
Kaz   
Contact Information:
PM or Email   
Other Characters:
None Yet   
Source:
Voting Site   
Roleplay Sample:
The soft clicking of heels against the TARDIS' metal grate flooring announced a young Mrs. Amy Pond's arrival. Her soft brown eyes taking in the oh so familiar sights of the beautiful time machine. Turning she swept her long red hair behind her shoulders and continued across the floor, seeking out the raggedy Doctor and her husband.
The control room was empty but the doors slightly ajar, they went outside. Nodding she continued towards the exit and pulled the doors open. Off she went into the waking world..or whatever world they were on. Every time it felt like a mystery, a puzzle to solve as to where they were. Sometimes they got it right and other times it just went wrong. "So boys, where did we land and where were we supposed to be?" It was an automatic assumption that either the TARDIS or The Doctor had led them astray. This was obviously not San Fransisco but a dark red planet with sand and grass everywhere. A smirk touched her lips for a brief second, this would be some adventure.



Posts

: 18


£

: 1525


Join date

: 2014-02-09

Rank/Abilities Sheet
Rank:
Weapons:
Abilities:


Amy... oh it's so good to see you.
~
APPROVED! Please add yourself to the face claim and who's who list! Welcome to the site and you may begin RPing!
Similar topics
---
Permissions in this forum:
You
cannot
reply to topics in this forum